SCHEDULE YOUR APPOINTMENTS, ACCESS THE CLIENT PORTAL + ORDER SUPPLEMENTS
SCHEDULING FOR NUTRITION MEMBERSHIPS
FREE CONSULTS
Are over the phone + we will call you.

For the call: think through why you're seeking a nutritionist. What are your health goals? Where might you be stuck? *Please be aware that this appointment is not intended to provide individualized dietary advice, rather it's about addressing what you're looking for and how we may help.
INITIAL CONSULTATIONS
All forms sent to you in CharmPHR must all be completed 48 hours prior to your appointment otherwise the appointment is subject to automatic cancellation + a cancellation fee. Allow yourself adequate time to complete the forms. These forms will be accessed through the client portal (which is below - the green button to the right).
APPOINTMENTS MUST BE SCHEDULED 24 HOURS IN ADVANCE - SORRY, NO SAME DAY APPOINTMENTS
CLIENT PORTAL (FOR CURRENT CLIENTS)
Manage your appointments

Fill out questionnaires sent by the practitioner

Send secure email messages

Review your appointment notes

View your lab results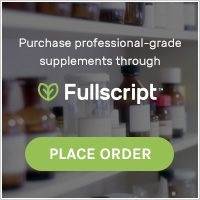 Pure, potent and pharmaceutical-grade supplements right at you fingertips. These supplements are specifically selected based on their high effectiveness and overall quality to ensure that you only get the very best. Contact your health plan administrator to see if you can use your HSA or FSA to pay for supplements!